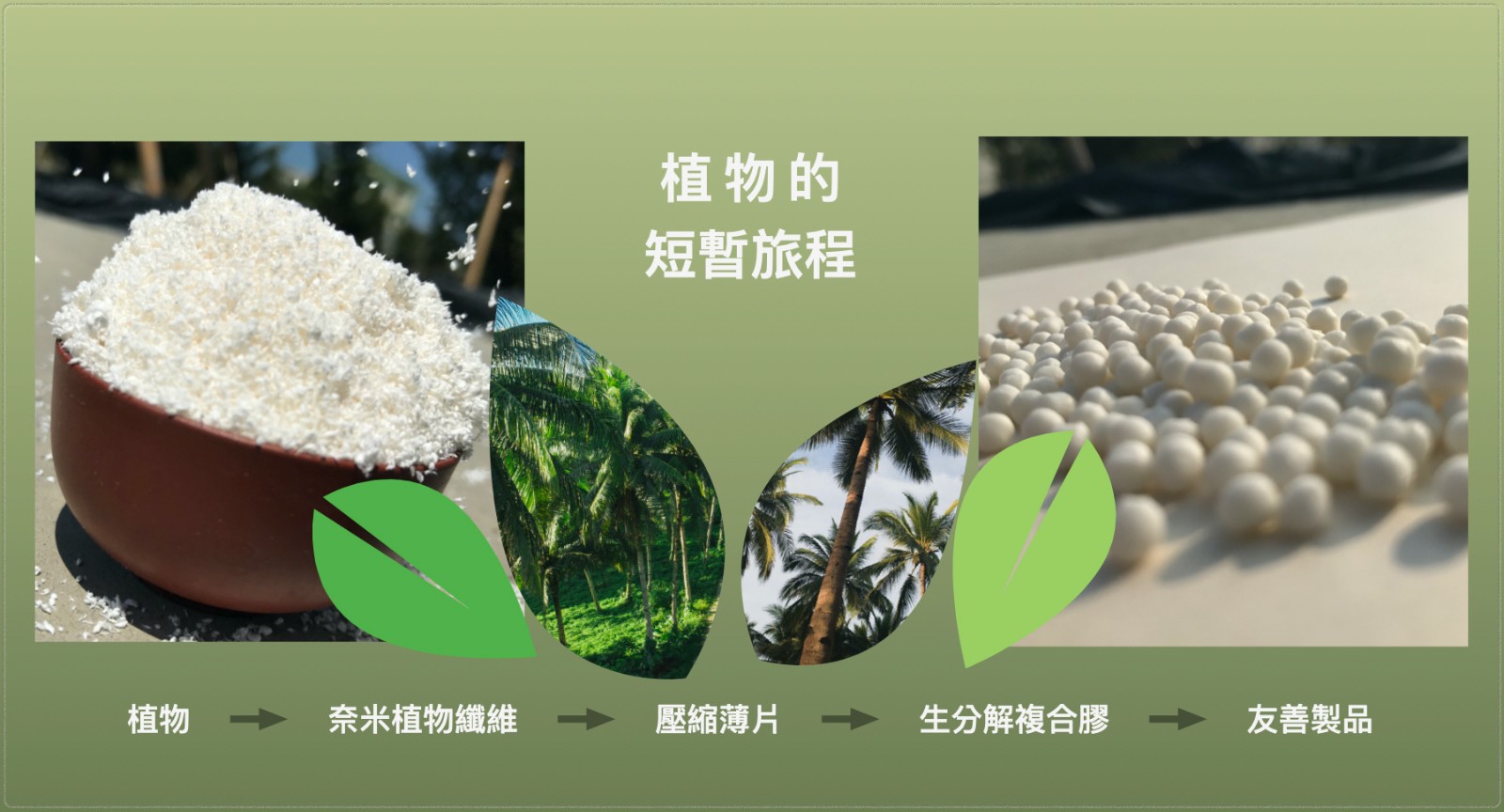 Plant fiber
■Product characteristics
· Cellulose extracted from plants is modified through functionalization and hydrophobicity to form a nanostructured plant fiber material.
· It has excellent physical and biological properties, reinforcement, and high cost-effectiveness.
· It is suitable for blending various Biodegradable plastic to improve their mechanical strength and heat resistance, and maintain the biodegradability of materials.
· Other versatile plastics or elastomers can also be added to enhance their mechanical strength, heat resistance, disintegration, etc.
· It has excellent compatibility with plastic substrates and can be processed using general plastic mixing methods, with good processing performance.
· Composite plastics mixed with nano plant fibers are suitable for various types of injection molded products, extruded boards, or membrane bag products, as well as other disposable products.
■ Advantage
· Improve the physical properties and heat resistance of various plastics, and reduce the cost of Biodegradable plastic.
· Effectively improving the tensile strength, bending strength, thermal deformation temperature, etc. of various types of plastics, while maintaining certain impact characteristics.
· Improve the biodegradability and marine biodegradability of Biodegradable plastic.
· Avoid problems such as skin allergies, itching, and stinging caused by inorganic reinforcing materials such as glass fiber and carbon fiber during processing.
· As a natural material, the product has high safety and does not have chemical or biological toxicity.
· The material itself is biodegradable and compostable, making it an environmentally friendly material.
■ Applicable materials
· Various Biodegradable plastic, such as PLA, PBS, PBAT, PCL, PHA, etc.
· Various versatile plastics such as PE, PP, PVC, PS, ABS, etc.
· Various thermoplastic elastomers such as TPE, TPS, TPU, TPEE, TPAE, etc.
· The above various materials can also be used as concentrated masterbatches for reinforcing or decomposing masterbatches.
Note: The processing temperature used should not exceed 220 ℃.
■ Basic properties
| | |
| --- | --- |
| Project | Property (numerical value) |
| Appearance | Compressed powder flakes |
| Colour | yellowish |
| structure | Hollow nanofibers |
| composition | Cellulose derivative |
| aSH | 4 ~ 5 % |
| density | 0.8~0.9 g/cm3 |
| moisture content | 4 ~ 6 % |
| softening point | 150℃ |
■ Test results
| | | |
| --- | --- | --- |
| composition | flexural modulus(Kg/cm2) | Impact Strength(Kg-cm/cm) |
| PLA pure material | 35500 | 3.5 |
| PLA+30% nanofiber | 64459 | 3.2 |
| PBS pure material | 4162 | 13.7 |
| PBS+30% nanofiber | 14087 | 7.5 |
| PBAT pure material | 764 | 25.1 |
| PBAT+30% nanofiber | 8100 | 14.8 |
■ Application product examples